Overview
Details
Cooler Master Hyper 212X - CPU Cooler with Dual 120mm PWM Fan
A new addition to the widely acclaimed Hyper 212 series
Keep your system in top condition and maximize the life of your CPU with the performance-improved CoolerMaster Hyper 212X CPU Cooler with Dual 120mm PWM Fan. The aluminum fin array adopts X-Vents and Air-Guide to better expel heat away. Up to four direct touch heatpipes pass through the aluminum fin array to create a comprehensive cooling system. Thanks to the fans with redesigned blades, more airflow will be created to cool the heatsink without producing more noise. And the fans' 4th generation bearing ensures an incredible lifecycle. With Cooler Master's brand-new smart fan engine, the fan will stop once blocked to ensure exceptional protection. Plus, it supports both Intel and AMD CPU sockets for great compatibility and is easy to install.
X-Vents Design
Positioned in a 45-degree angle and surrounding the heatpipe, each fin-blade features X-shaped vents that create areas of high and low air pressure, resulting in several controlled vortices. These small and chaotic turbulences produce strong gusts that reduce overall airflow but improve airflow where it matters the most – next to the heatpipes.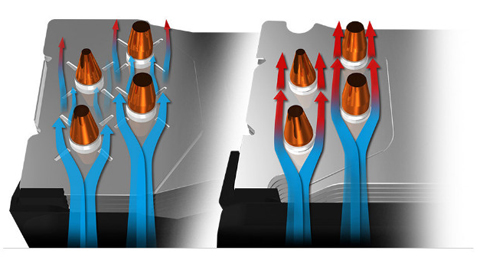 Exclusive "V" Shaped Array
Funnel shaped aluminum fins and a series of perforated dimples guide the airflow towards the heatpipes. The specially designed X-Vents act similar to tiny airplane wings and prevent deadspots behind and between heatpipes. The combination of these patented technologies results in a notably higher airflow over the heatpipes and the adjacent fin area, ultimately reducing CPU temperatures.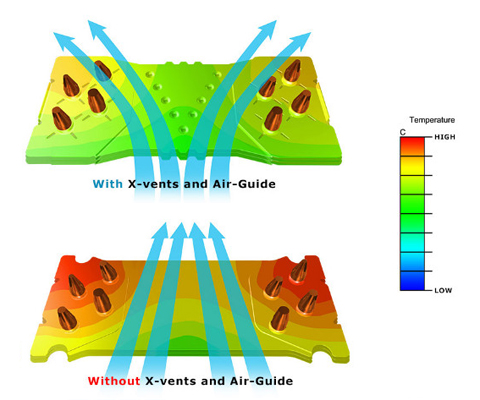 Exclusive CDC Technology
Four continuous direct contact Heatpipes create a gap-less contact surface for unmatched cooling efficiency.

Optimized Fin Design
Aluminum Fin Array with Tunnel Effect layout creates micro vortices that boost the airflow and circulate it around the heatpipes.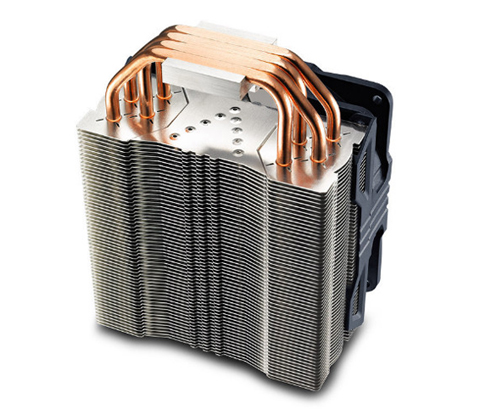 POM Bearing
The POM bearing is coated with Polyoxymethylene material. This type of material is ideal for precision parts requiring high stiffness and provides consistently lower friction levels than traditional bearings. Self-lubricating, lower friction, and dustproof protection, ensures the average lifetime is pushed up to an incredible 160,000 hours.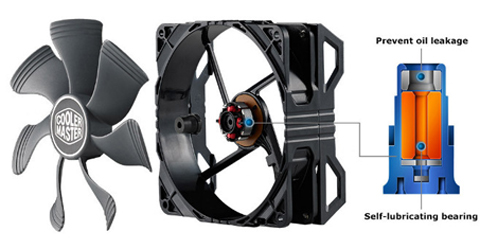 Universal Socket Compatibility
The RR-212X-20PM-A1 offers universal Intel and AMD socket compatibility.
- Compatible Intel Socket/Slot: LGA 2011-V3, 2011, 1366, 1156, 1155, 1151, 1150, 775
- Compatible AMD Processors: AMD FM2+, FM2, FM1, AM3+, AM3, AM2+, AM2, AM1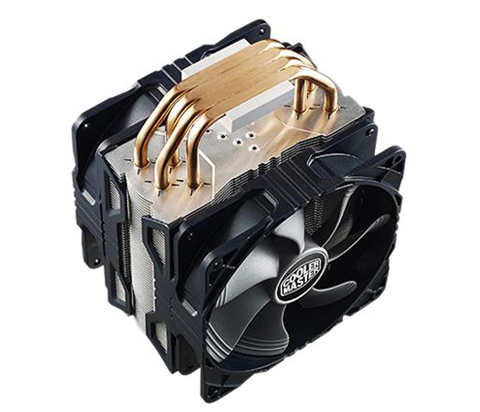 Easy Installation
Thanks to its versatile all-in-one mounting solution, installation is easy and fast.
Specifications